Estalky Android Poc Radio E550, simple and professional radio for security and logistic field
Estalky E550 is an easy-to-use, PTT (Push-To-Talk)-only, IP67 ruggedized device,embodies WIFI,GPS,BT, NFC and android operating system. it is a perfect device for LMR user and iDEN users to upgrade its service due to unlimited network and distance communication.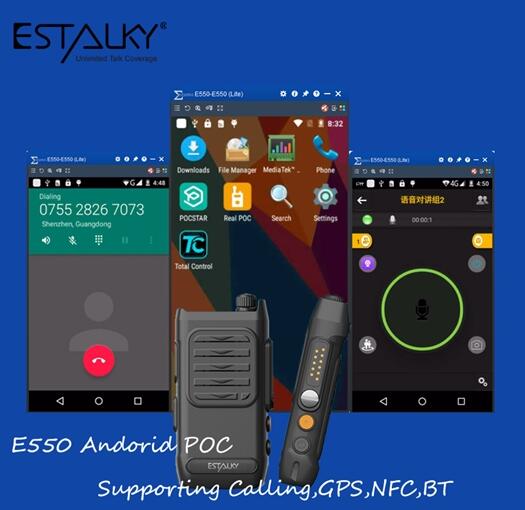 Estalky E550 is a compact, rugged PoC handset with CE. FCC quality standard. it is perfect size and function for users who are used to operating traditional two-way radios. it is equipped with a large and visable PTT button, channel knob and emergency button,Intuitive OLED display, and long battery-life.

E550 is also the ideal solution across public security, law-enforcement, emergency services, logistics and health-care professionals which works with unlimited coverage over 3G, LTE, WiFi & Satellite. We also develop Rotary belt clip which users can adjust its location where they need or equip in their body,user friendly.